I've been knock, knock, knockin' on so many gates. Several at the various airports of course and, finally, at the exhibition palace, the MOC's frantic ushering gateway to the biggest event on the audio calendar, Munich High End 2019.
Once again, the zealous throngs will delight in the full spectrum of high-end audio, in all its music-making glory. And the SoundStage! Network team will provide thorough coverage and report on all the new and significant product releases. There's way too much to see and hear as always. The event is the platform for announcements and launches which continue to expand the boundaries of what's possible in music reproduction. It's a burgeoning mass of delights which mushrooms from this location to the distributors and on to retailers across the world where, you, the eager end-user may thrive and enjoy the pleasures of art.
While we, at SoundStage! Australia, will offer morsels of what we find, as we first enter the chambers of music through the show, the full picture will be provided via our team's aforementioned herculean coverage efforts.
Of course, in my fluid journeys around the MOC I'll, no doubt, come across gems of outstanding shimmer and it will be those that I'll be basing my favourite pickings from. In my summary post-show, I'll be naming the very best (within my, most likely, incomplete experience) of High End Munich 2019.
Apropos, the first encounter with audio magic on opening day was by way of what may have been the first Press event. Dynaudio is not launching products at HEM 2019. Instead the company is talking up its Dynaudio Unheard formula for promoting music talent. Dynaudio is providing a platform for that purpose by taking a mobile studio, with all the bells and whistles, to all sorts of locations in order to record artists who may otherwise not be 'Heard' and, otherwise, remain 'Unheard'.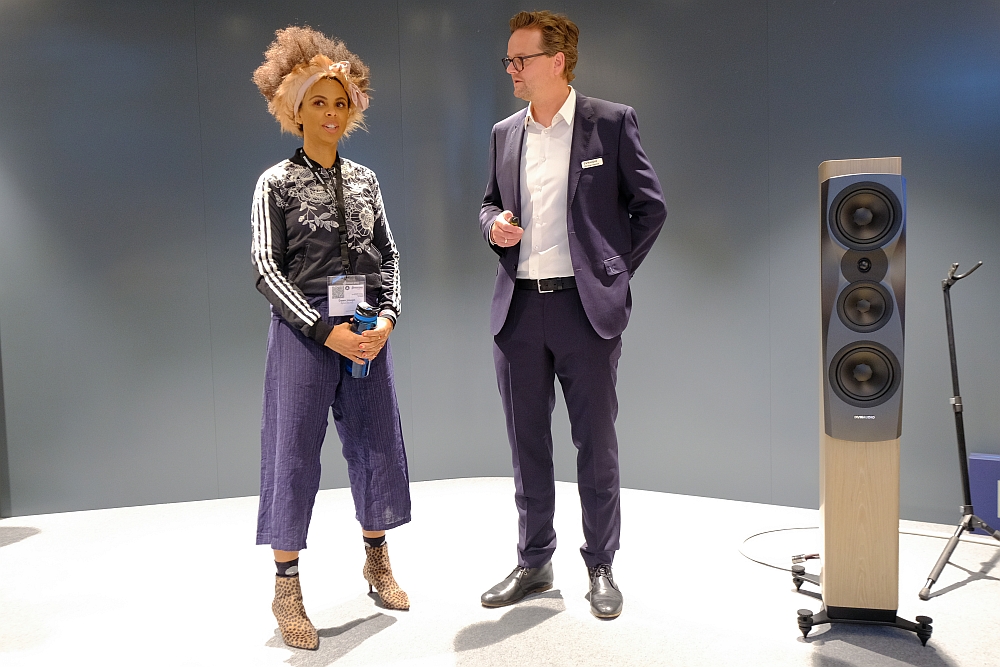 Dynaudio Global Marketing Manager Christian Bennike interviews artist Dawn Joseph
Dynaudio's Global Marketing Manager Christian Bennike explained how the mobile studio, fitted out inside an ex shipping container, will be combining the recording aspect of creating music with a simultaneous broadcasting to a captive audience in one of the MOC's beer gardens. Win, win. A nascent artist has a platform for both producing and performing the music. At the Press conference, artist Dawn Joseph and her accompanying band of young musos gave a short sample of what can be expected. Further, 'webisodes' will be broadcast promoting the recording sessions on social media.
To wrap-up, this incentive is to be admired and supported by the media at large. Music, after all, is what we're all in this for, right?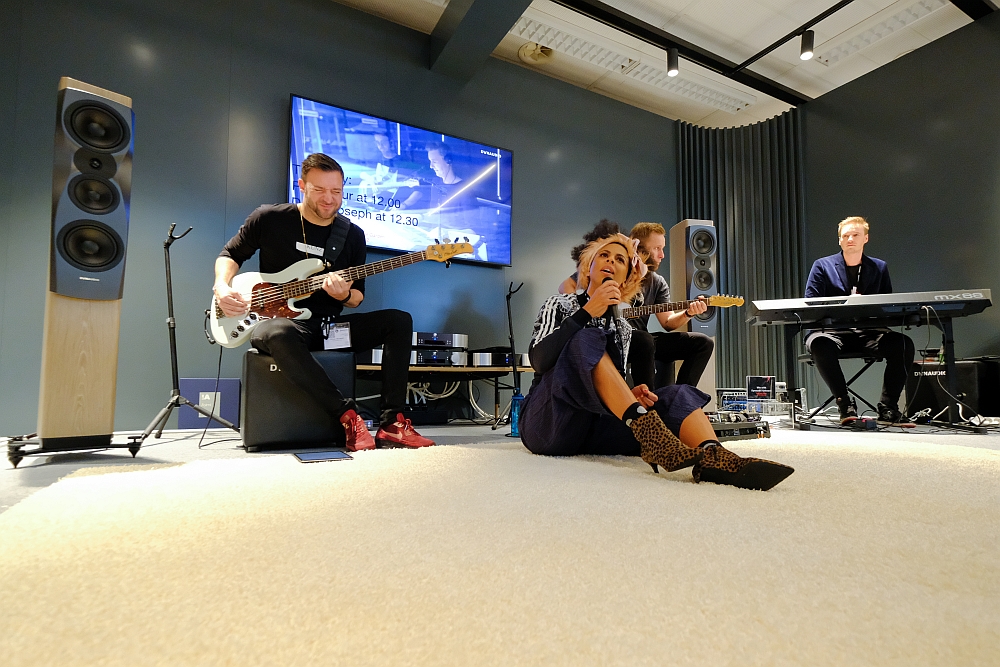 Dawn Joseph and band belt it out
Stay tuned for my further findings coming after HEM and, as per last year, my favourite rooms with the best gear and music. For developing show coverage, visit www.soundstageglobal.com
… Edgar Kramer
This email address is being protected from spambots. You need JavaScript enabled to view it.