Karan Acoustics has announced the expansion of its Master Collection flagship range with the new LINEb high-end single-chassis preamplifier.
The new LINEb joins its sibling LINEa two-chassis preamplifier in Karan Acoustics' top-level Master Collection line. The LINEb has been engineered with meticulous care and craftsmanship in order to reflect the company's statement products. As such, other than the inclusion of the required subtly simplified circuitry into the one box, the LINEb does not compromise in terms of build and engineering quality.
On offer is a massive aluminium chassis with an aesthetic design mirroring the LINEa flagship. That in itself is a great thing… these are extremely attractive designs. Interior circuitry is laid out with immaculate care while the fully balanced design offers a variety of connectivity options including non-balanced inputs. So, LINEb features four balanced XLR and two unbalanced RCA inputs and two balanced XLR outputs in conjunction with a ground on/off switch and IEC socket. Parts quality is of the highest standards, highlighted by Audyn-Cap Reference level capacitors, while overall layout and circuit topology have been meticulously developed.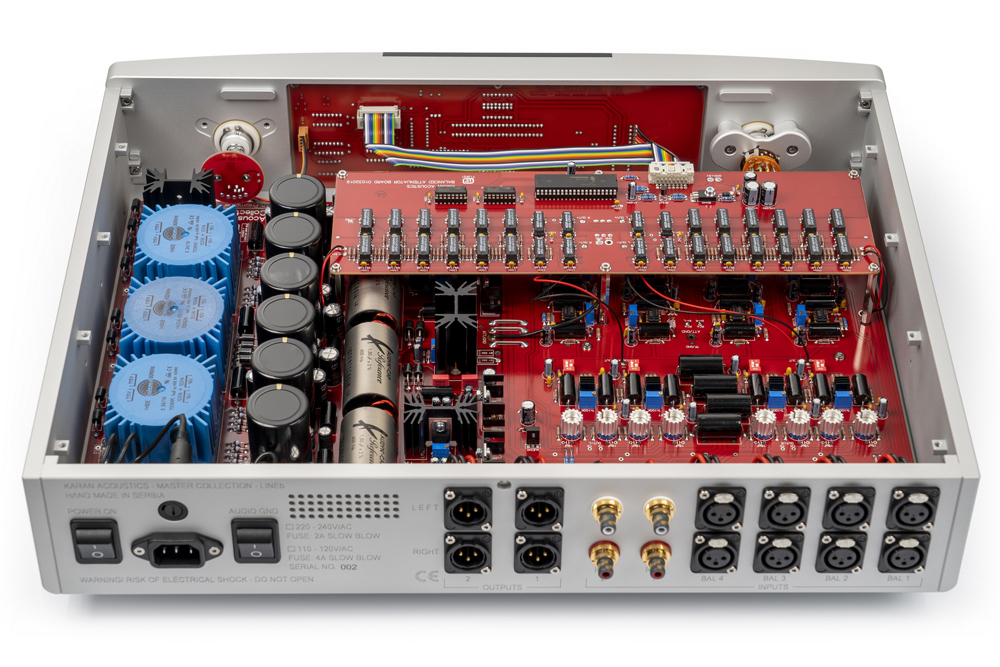 Input impedance is a reasonably high 30 kohms while output impedance is a low 90 ohms. The former allows wide compatibility with line source outputs while the latter allows connectivity to any power amplifier on the market. Gain is a switchable +6dB or +9dB, a structure which, again, allows super-wide compatibility with power amplifiers. The frequency response is a flat 20Hz to 20kHz +/- 0dB with a super-wide - 3dB response from 1.5Hz to 3MHz while the Total Harmonic Distortion (THD) is a low 0.003% at full output 20Hz to 20kHz.
The beautifully made LINEb preamplifier also features comprehensive menu options, the highly acclaimed CMS (Critical Mass Systems) CS2 isolation footers and Karan Acoustics' familiar high quality solid aluminium circular remote control. We're told a Master Collection phono stage is in the works, with hints of subsequent stereo and monoblock power amplifier releases.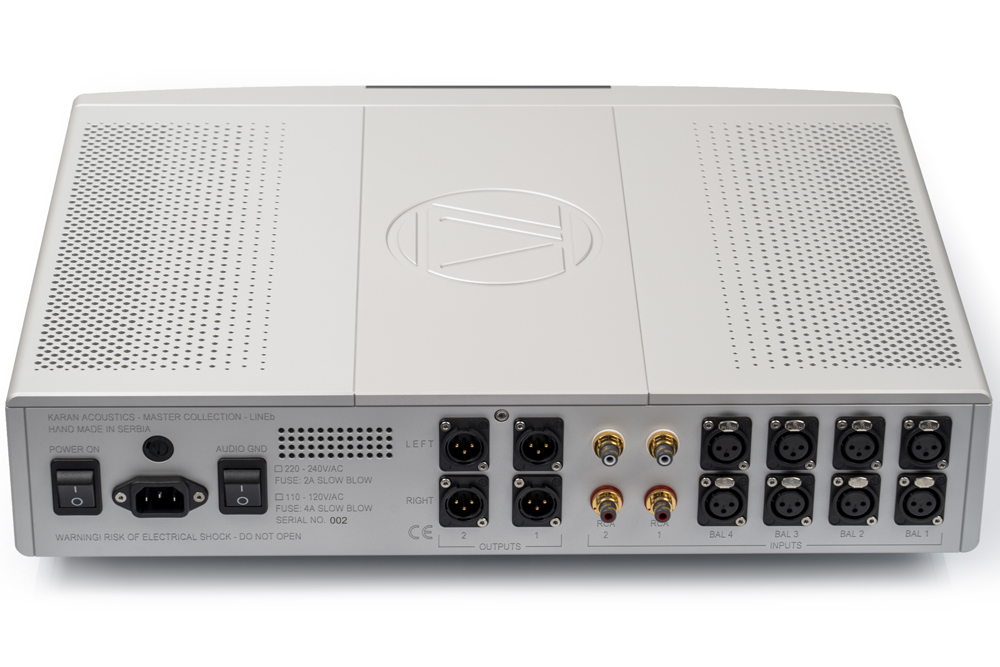 The new LINEb Master Collection preamplifier will be available via importer Radiance AV's established network of specialist audio dealers around the country.
Karan Acoustics Master Collection LINEb Preamplifier
Price: TBA
Australian Distributor: Radiance AV
+61 2 9659 1117
www.radianceav.com.au