An update of what Ayon calls "the legendary" Spirit III integrated amplifier, the new Spirit V is said to be not just a simple rework but a total re-engineering of its acclaimed predecessor.
The Spirit V integrated amplifier's circuit has been redesigned and now features an improved power supply with two new power transformers and a new 'Super-Wide Bandwidth' output transformer. The driver stage has also been re-engineered with a new choke while a totally new volume control scheme has been implemented. A revamped and switchable damping system, which the company calls DMP, is now included and is said to allow the drive of more difficult, low impedance speaker systems.
The Spirit V is a Class-A amplifier using KT88 or KT150 valves in a push-pull configuration which can be switched between pentode and triode modes. In pentode mode the Spirit V offers 65 watts per channel with triode mode is quoted as providing 40 watts per channel. The Spirit V can be switched to run as a pure power amplifier bypassing the preamplification stages. Short signal paths (with no solid state devices in the path) have been used throughout the amplifier (very short copper traces in all the circuit boards) while a protection circuit has been implemented to cover both the valves and the electronics. An AC line noise filtration scheme has been applied to the Spirit V. High quality components have been used throughout while connectivity is via WBT, Neutrik, etc. There are three RCA and one XLR line inputs and a Pre-Out.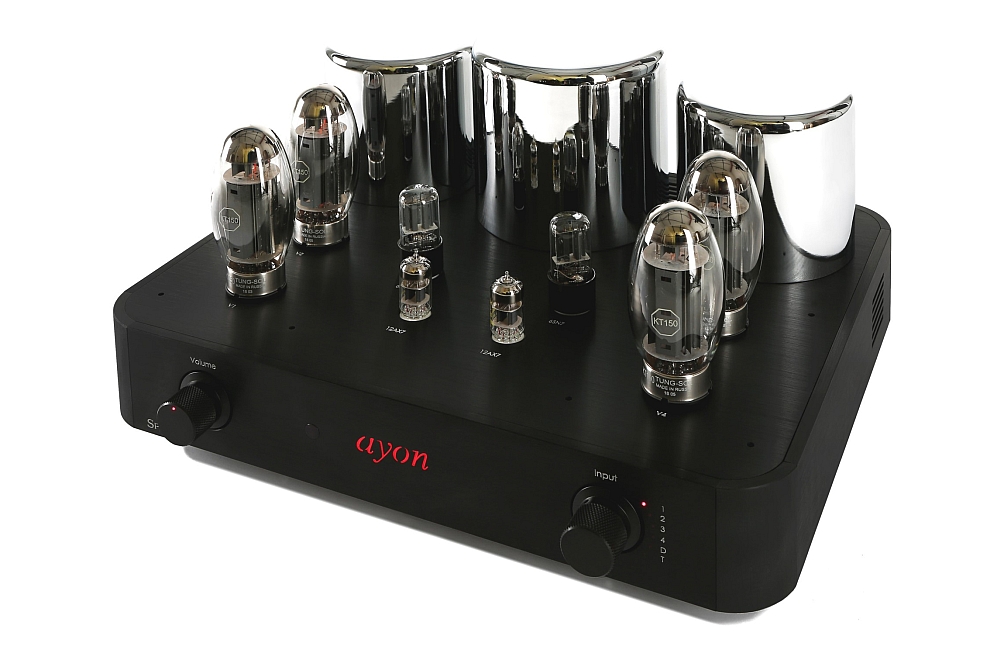 "We are sure the new Spirit V will follow up the legendary Spirit III and the new version V will be a very strong sales product again" Boris Granovsky from importer Absolute Hi End told SoundStage! Australia, while Ayon told us, "It's fast, airy, dynamic, punchy and deep bass performance, transparent and holographic soundstage is the strengths of this amplifier. The Spirit V sets a new standard in built quality, sound performance and its time-less design appearance is a new milestone in its price class."
Ayon products are available around Australia via specialist audio retailers.
Ayon Spirit V Integrated Amplifier
Price: AU$9995
Australian Distributor: Absolute Hi End
+61 488 777 999
www.absolutehiend.com