Riding on the wake of the successful and highly acclaimed Sweet Maxwell speakers from Australia's M8audio (see our review here), the company has now announced a downscaled follow-up design with similar sophisticated engineering and philosophical principles.
The new Tiny Maxwell 2-way speaker follows the unique Sweet Maxwell aesthetic in terms of its bespoke cabinet design while using equivalent high quality drivers in smaller form factors. The Tiny Maxwell's tweeter is the highly regarded T100BE pure beryllium 29mm dome from SB Acoustics which is a subtly trimmed down version of the flagship T104BE tweeter used on the larger Sweet Maxwell. The T100BE is a high powered low distortion tweeter with large voice coil, a wide surround and a massive motor with dual copper inserts (said to minimise inductance).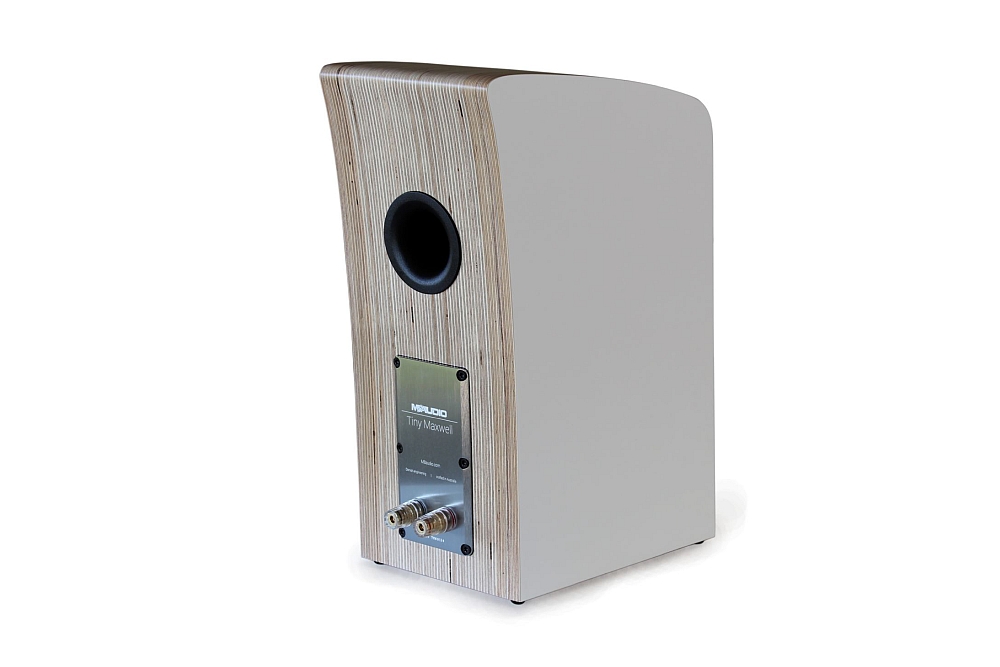 The tweeter is mated to a high quality Scan-Speak Revelator 148mm (5 inch) mid-bass driver with uncoated paper cone, as specified by M8audio due to the claimed wider dynamic envelope and openness. The Revelator driver features Scan-Speak's Symmetrical Drive motor structure with a massive magnet system and large supporting voice coil. The trademark Scan-Speak Revelator 'sliced' cone design provides controlled break-up modes while the low loss linear suspension rubber surround allows extremely low distortion levels.
As per the Sweet Maxwell, the Tiny Maxwell features a superbly engineered and beautifully built cabinet. As company Founder and Chief Engineer Mark Thomsen told SoundStage! Australia, "The 100% hand finished cabinet is made from cross laminated birch veneer sourced from our sustainable forestry suppliers in Europe. The beautiful precision CNC machined curvatures throughout the speakers' surfaces, along with internal honeycomb bracing result in a very rigid cabinet" with Thomsen providing further insights, "The internal side walls of the cabinet have partially been hollowed with a honeycomb pattern, in which our unique viscoelastic dampening is applied to every honeycomb chamber. Our proprietary viscoelastic material is specifically engineered through modern molecular chemistry, to have exceptional dampening qualities throughout a very wide frequency spectrum."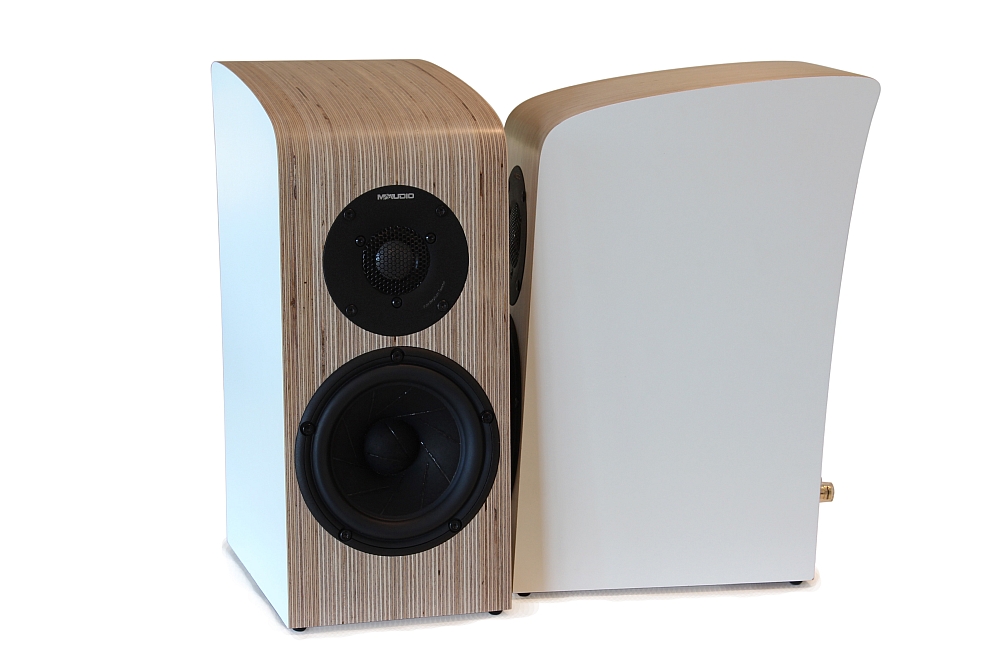 The Tiny Maxwell boasts impressive specifications for a speaker of its size. The frequency response spans from 49Hz to 32kHz +/-3dB while the sensitivity is quoted as 84dB (2.83V/1m) with a benign impedance of 6 ohms (4.2 ohms minimum at 170Hz). The high quality crossover is set at 2.6kHz. The elegant cabinets are finished in an elegant satin white with contrasting lacquered birch ply. The Tiny Maxwell measures 378 x 168 x 267 mm (HWD) and weigh in at 7kg each.
The new Tiny Maxwell speakers are available from M8audio via the company website and are priced at AU$4000 a pair.
M8audio
+61 432 322 807
www.m8audio.com
Price: AU$4000/pair