Following on from the successful Reference PH 150, ModWright Instruments now presents the more affordable PH 9.0 'Tube Phono Stage' boasting a similar features set and comparable performance.
The new PH 9.0, which is to be announced at the upcoming Rocky Mountains Audio Festival 2018 (RMAF, displayed in room 9010), shares similar circuitry to the Reference PH 150, including its Moving Coil (MC) adjustments and gain settings which makes it extremely versatile. The two chassis configuration and reduced size allow easy placement within the context of any system (the umbilical cable between phono stage and power supply is approximately 2m long).
Said to share the same tonality and similar overall high performance of the Reference PH 150, the PH 9.0 features two 6C45 and two 6922 valves in its circuit which is quoted as having a maximum gain of 64dB for the MC stage and 52dB for the Moving Magnet (MM) stage. Further 0dB, -6dB and -12dB adjustments are also available for fine tuning and comprehensive compatibility with a wide range of cartridges.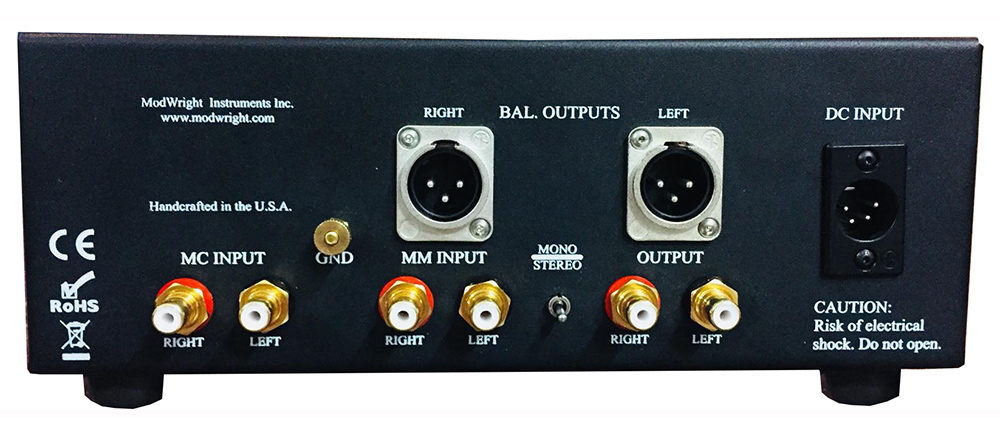 The rear panel offers good flexibility in terms of connectivity with twin RCA inputs catering for MM and MC cartridges. Outputs are via unbalanced RCA with an extra cost fully balanced transformer coupled XLR output offered as an option. There's a high quality toggle switch for mono or stereo operation catering for twin arm setups. A four pin XLR-style socket connects to the external power supply.
Company Founder and designer extraordinaire Dan Wright told SoundStage! Australia his design aim was for the PH 9.0 to, "… provide the most natural and musical presentation of analogue playback. Extensive testing with both MM and MC cartridges and a series of reference turntables and tone arms proved the performance of this new design."
The new ModWright Instruments PH 9.0 valve phono stage is for imminent arrival in Australia.
Australian Distributor: Absolute Hi End
+61 488 777 999
www.absolutehiend.com
Price: AU$4500